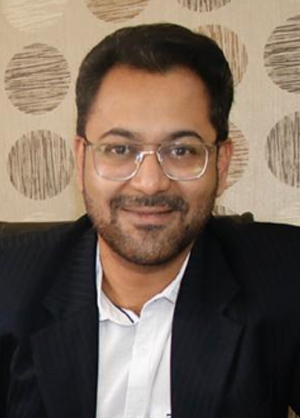 Dr. Abhijit Deshpande
Master in Dental Surgery
Specialization in Oral Surgery,
Implant Dentistry and Periodontics
Dentist in Wakad - Dr. Abhijit Deshpande
Dr. Abhijit Deshpande - Dentist in Wakad
MDS, (Periodontology & Implantology)
Dr. Abhijit Deshpande is a highly regarded and accomplished dentist based in Wakad. With a specialization in Periodontology & Implantology, he has an impressive track record of over 14 years, during which he has successfully completed more than 2,500 dental implants and sinus augmentation procedures with an outstanding 99% success rate. Dr. Deshpande is widely recognized for his expertise in full mouth rehabilitation cases, having delighted over 300 implant patients, resulting in a remarkable 80% rate of repeat patients.
In addition to his clinical achievements, Dr. Abhijit Deshpande has also made significant contributions to dental research and education. He won an accolade from the Indian Dental Association for his paper presentation on "Benign Paroxysmal Positional Vertigo (BPPV): A complication of Osteotome Sinus Floor Elevation." Furthermore, he explored the role of Platelet-Rich Fibrin (PRF) in dentistry, presenting his findings as a poster on Full Mouth Rehabilitation at the esteemed Association of Osseointegration (AO) and the Indian Society of Periodontology (ISP).
Dr. Deshpande is not only dedicated to improving oral health within his community but also actively involved in spreading awareness. He has conducted training programs for over 1000 teachers, educating them on oral hygiene habits, and organized oral check-up camps benefiting more than 100,000 children. As a regular columnist in local newspapers, he endeavors to inform patients about the latest technological advancements in dentistry, increasing their awareness.
Apart from his professional commitments, Dr. Abhijit Deshpande is a compassionate individual who volunteers his time and expertise for the Happy Thoughts Foundation. This Pune-based non-profit organization focuses on self-development and spirituality, where Dr. Deshpande serves as a volunteer and trainer.
Dr. Abhijit Deshpande is undoubtedly a remarkable dentist in Wakad, highly skilled in his field, and dedicated to improving the oral health and well-being of his patients in Wakad.
Certificate of Incorporation
Qualification Details and Experience Summary
Master of Dental Surgery (2017)
MDS, (Periodontology & Implantology)
Dr. D.Y. Patil Vidyapeeth, Pune, Maharashtra (India)
Bachelor of Dental Surgery (2005)
Maharashtra University of Health Sciences, Nashik,
Maharashtra (India)
REGISTRATION & MEMBERSHIPS
Registered Dentist with Dental Council of India
Regn. No. A-12267
Indian Dental Association (PCMC Branch)
Secretary (2015)
Joint Secretary (2011-12); Treasurer (2007-12)
Noble Fellow (Nobel Biocare)
Mentor: Dr. SuchetanPradhan, Dr. Kumar Swamy
Attended workshop conducted by renowned speaker Mr. Hengsan Jeon on Full Mouth Rehabilitation with Dental Implants, 2017
Digital Dentistry Program Italy - 2019
Dr. Reshma Deshpande
M.D.S. (Oral and maxillofacial surgery)
About Dr. Reshma Deshpande
M.D.S. (Oral and maxillofacial surgery)
Attended peripheral posting in GSR Institute of Craniofacial and Facial Plastic Surgery, Hyderabad.
Attended peripheral posting in Kidwai Memorial Institute of Oncology, Bangalore.
33rd Annual conference, Association of Oral and Maxillofacial Surgeons of India, Lucknow.
Esthetic Facial Surgery – Live Workshop, Govt. Dental college, Bangalore
4th Annual conference of AOMS TN and Pondy Chapter, Kodaikanal
Symposium on cleft lip and cleft palate CDE and operative workshop, Bagalkot.
5th TOMA Conference, 21st– 22nd November, Chettinad Health city, Chennai.
Symposium on Evidence based guidelines for management of Head and Neck cancer, Mazumdar Shaw Centre, Bangalore.
14th Mid term conference and P.G. convention of AOMSI, Dr.D.Y.Patil University, Navi Mumbai. 2010.
Indo British Oral Oncology Workshop and Conference, Kidwai Memorial Institute of Oncology, Bangalore.
1st Annual Conference of Karnataka State chapter of AOMSI, held at Mysore
Nobel Biocare certified hands on course on Implants done, Bagalkot
First scientific convention of Maratha Mandal's institute of dental sciences and research centre, Belgaum, held by Dept. of Pedodontics and Preventive Dentistry.
2nd Annual Conference of Karnataka State Chapter Of AOMSI, " New Horizon – Recent Advances In Oral And Maxillofacial Surgery", held at P.M.N.M. Dental College And Hospital, Bagalkot, Karnataka.
CDE programme entitled, " Dental safety essentials for clinical practitioners", held in Maratha Mandals institute of  Dental college and Hospital, Belgaum.
Worked as a senior lecturer in Maratha Mandal Dental College, Hospital and Research Centre, Belgaum.
Worked as a senior lecturer in Tatyasaheb kore Dental college and Hospital, New Pargaon, Kolhapur.
Worked as a Resident, Head and Neck Oncology in Mahatma Gandhi Cancer Hospital, Miraj.
Article published in contemporary Clinical dentistry. July-sept 2014,vol-5; issue 3
Super Speciality Dentist in Periodontol Diseases
Dental implants & oral surgeries like a wisdom tooth removal