Best Dental Implant in Wakad
What exactly is a dental implant?
A dental implant is a root replacement. Dr. Abhijit Deshpande provides Best Dental Implant in Wakad and has treated more than 300 happy implant patients, mostly full mouth rehabilitation cases.
It is a fine rod of metal that is inserted or "planted" into the jawbone.
The natural root which was removed when the tooth was extracted, is now replaced by a metal root.
Implants can allow tooth replacement when teeth have not developed because of hereditary or congenital factors.
Titanium is the metal of choice.

Titanium is the metal of choice.
Rejection is seldom, if ever, a problem.
It is a very strong and durable metal.

An implant is made up of two parts: The root or body, and the abutment.
The root is embedded in the bone and the abutment is the part that is visible in the mouth.
The root portion is left under the gum while the bone is growing around it. The abutment is attached at a later stage.
Crowns and bridges are attached to the abutments.
Dentures can be made more stable by being supported by abutments.
Natural tooth + Crown on implant
Are dental implants a good way of replacing missing teeth?
Dental implants are very successful for replacing single or multiple missing teeth.
Implants can be used to anchor or support individual crowns.
They can also support or anchor bridges, replacing one or more missing teeth.
Can implant-supported crowns and bridges look good?
Crowns and bridges that rest on implants can be made to look aesthetic and match the surrounding natural teeth.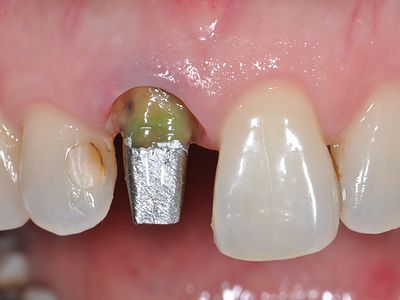 Will I be able to chew well with teeth anchored by implants?
Teeth anchored by dental implants should allow perfectly normal chewing.
Can implants support or anchor a fixed bridge if all the teeth have been lost?
Implants can support fixed bridges, even in cases where all the teeth have been lost.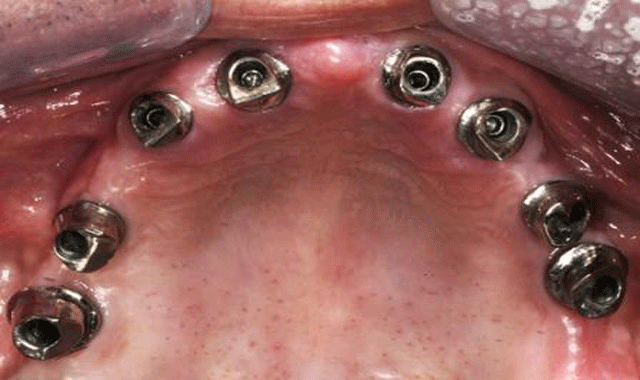 Can dental implants support removable partial dentures?
The firmness and comfort of removable partial dentures can be markedly improved by using dental implants for added support.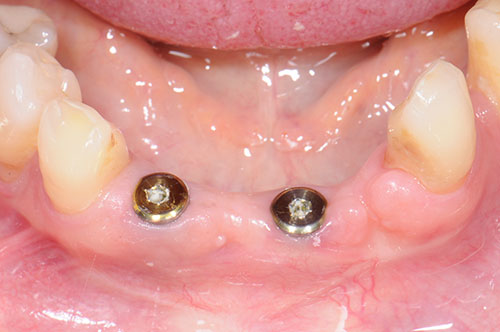 Can implants be used to firm up loose full dentures?
The placement of just 2 implants can make a full denture firmer and more stable.
Lower dentures are usually less firm and comfortable than upper dentures.
Implants in the lower jaw can improve the stability of lower dentures.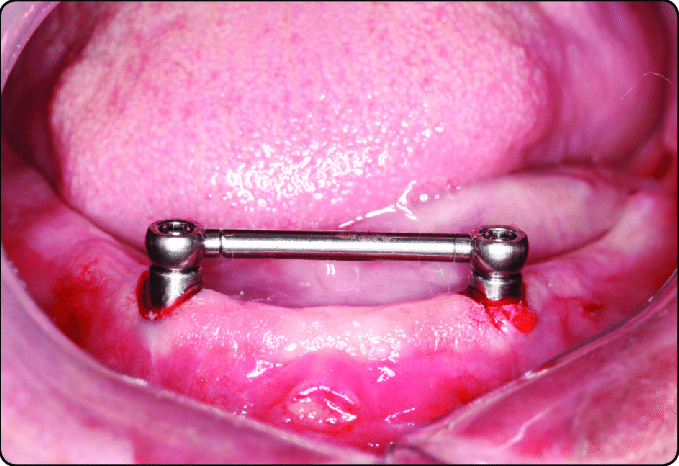 Can medical problems make implant placement impossible?
Most people can have dental implant treatment.
A few conditions such as diabetes, osteoporosis, or bleeding disorders may present problems if they are not properly controlled.
What can be done if there is not enough bone left for implant placement?
Dentists are now able to rebuild or regenerate enough bone to make implants possible. Dr. Abhijit Deshpande provides one of the Best Dental Implant in Wakad with 14 years of experience with 99% Success Rate.
What does an implant restoration consist of?
The implant restoration consists of:

The implanted titanium root is embedded in the jawbone.
The replacement crown is cemented or screwed to the new implant. The crown will cover and be supported by the abutment of the implant.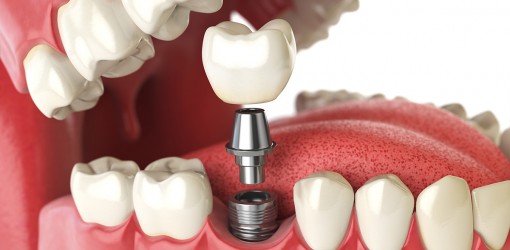 How are dental implants placed in the jawbone?
Under cover of local anesthesia, a small incision is made in the gum.
A hole is prepared in the bone and the implant root is placed in it.
The gum is then stitched closed over the implant.
How long must an implant be left under the gum before it is ready for use?
The root of the implant is left covered by the gum for 3-6 months for healing to take place.
Is the placement of implants uncomfortable or painful?
Implant placement is carried out with local anesthesia and so it is generally painless.
There may be some discomfort after the placement.
This discomfort can be lessened with an analgesic.
There can be some swelling, which may be treated by applying ice packs.
Will I need to be off work after the dental implant placement?
When only a few implants are placed, it may not be necessary.
Placement of a large number of implants may require some time off work.
Will I be toothless until my implant and restoration are ready?
Not for long, if at all.

Temporary tooth replacements can be fitted.
They are functional: you will be able to eat comfortably and well.
They are aesthetic: they will look natural and attractive.

Your permanent restoration will be better in every way.
PLEASE FEEL FREE TO CONTACT US FOR EMERGENCY CASE.
On the other hand we denounce with righteous indignation and dislike men who are so beguiled.
+91 20 27206131