Bright Child Dental Care Program
Free Dental Check Up Every 6 Months
Dental experts say that one must have a dental check-up at least every 6 months. These examinations can reveal not only the current problems if any, but also the possible future problems. If we can know the future problems now, we can take adequate preventive care measures to bring them under control. Every child is given a free check-up every 6 months.
Free Examination Report
After a detailed dental check-up is made, a complete oral examination report is compiled and a copy of the report is given to the parent. This Report will explain the conditions of the child's mouth and teeth. It will also give what remedial measures are recommended for the child and what immediate actions are required if any etc. The parent can plan the treatment, if any, according to his convenience and time, taking into consideration the gravity of the problem. Treatment is not compulsory but to make the full benefit of the program it is advised to take preventive care measures at the earliest.
Free Education On Oral Health And Dental Hygiene Through Seminars
Both the parents and the child are given oral hygiene tips that are needed on a day-to-day basis. The parent must try to inculcate good oral hygiene habits in the child from an early age onwards.
Free Dental Hygiene & Gift Chart
Dental Hygiene & Gift chart is designed to train the child to adhere to strict oral hygiene and dental care habits from early age. As it is difficult to insist on children to brush their teeth etc, a chart is designed to help the child maintain a regular practice of oral care and the parents can involve in this process directly by encouraging them to complete the chart daily and by checking if they have brushed and marked the chart. On completion of the chart, the child is given an attractive gift.
Service Of Experienced Dental Professionals
The Dental check-up is done in a well-equipped dental clinic. The check-up will be done in a professional facility under the direct supervision of experienced Dental care professionals. Dental examination and treatment must be done in a protective and hygienic environment. A complete oral examination is possible only if it is done at a dental care facility. That is why we insist that child must come to the dental clinic for a check-up.
Free Gifts On Completion Of Dental Hygines Charts
Gifts are given to all students who complete the Dental Hygiene chart as an award for the successful completion of completing the chart and maintaining oral care during the period. The gifts are attractive and useful for the students and relevant to their needs.
Attractive Discounts On Treatments, If Required
We offer attractive discounts to needy students on treatment. The treatments are planned according to the level of intensity of the problems.   As dental treatments are usually very expensive, a discount will be very attractive for the parents to avail of the treatment quickly for the child.
Free Dental Check Up For The Parents
It is found that 80% of adults have dental problems. But the majority of them go to a dentist only after they experience pain or discomfort. By this time damages are already done to the teeth. If regular checkups are done for adults, most of the problems can be minimized and solved in time.
As educators parents can also set good examples for the children by taking initiative in their oral care and making regular visits to the dentist. It is also an opportunity for the parents to avail this FREE CHECKUP and to rectify their problems at the earliest possible. An informed and educated parent is an asset to every family and community.
Daily Dental Hygiene & Gift Chart
Getting your child to brush their teeth every day is a major accomplishment for both the child and the parent. Children need to develop and cultivate healthy Dental care and Oral hygiene habits from early childhood onwards. As they are children, it is very difficult to insist or pressurize them to brush their teeth two times daily and to be cautious always about the preventive care they need to take daily. A child always needs to be told and reminded about practicing good habits. To overcome such a problem Dr. Abhijit Deshpande (An Oral health expert) has designed a Daily Oral Hygiene Chart, to encourage the children to brush their teeth for some reward (to get a good Gift) on completion of the chart.
The Chart is designed for 6 months and every child needs to mark the chart daily after brushing their teeth both in the morning as well as at bedtime. All children who complete the charts and return them will get an attractive gift. It is found that while children aim at getting an attractive gift, they also develop Oral hygiene and Dental Care habits gradually, which will help them all through their life.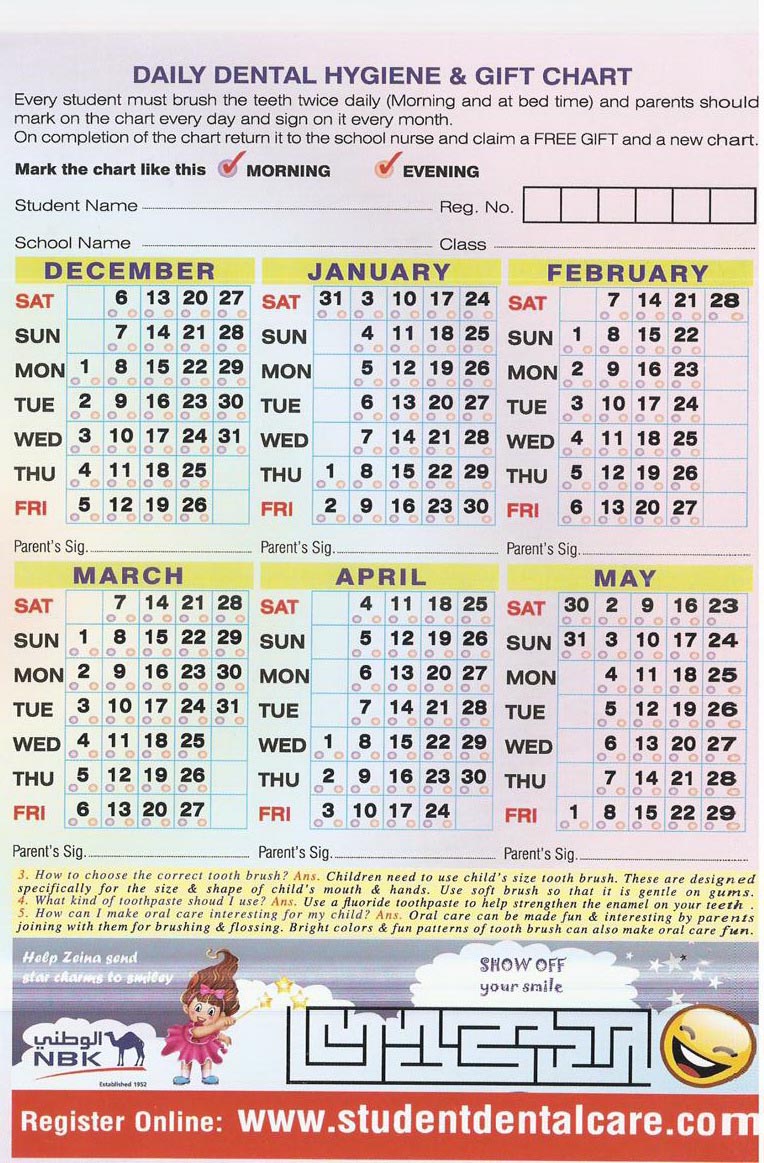 Register Your Child now & Get Benefits
20% discount on Dental Sealants.
Free check-ups up to 17 year of age every six month
Free scaling & polishing in 1st visit
Free check-up for parents.
10% Discount on all Dental Treatment for all members of the family
Free Orthodontic consultation for misaligned teeth with a 20% discount.
It is found that around 75% of children 17yeras and under have dental problems. They suffer pain and discomforts and also loose many days of school hours due to this. Dental Care experts say that most of these dental problems are due to lack of Oral Hygiene and good Dental Care habits and by improving oral health and taking preventive care measures one could overcome them.
We at continuous success are striving hard to create a healthy society with less dental and oral health problems. Our motto is "To make a healthy citizen of tomorrow"
A periodic dental check-up is a must to determine the conditions of teeth in order to take remedial measures. Dentists suggest at least two check-ups in a year i.e. once in every 6 months.
Most of the parents take their child to a dentist only when they complain of pain or discomfort. But that is already too late to save the child's teeth. Irreparable damages are already done to the teeth by this time and there is no time left to take preventive care and to save the teeth. Many of the time we take our child to the dentist only to remove the teeth instead of saving it.
"Bright Student Dental Care program" helps the parents to identify the problems, of their child if any, and then helps them to rectify the present problems to take immediate remedial actions, so as to prevent dental problems in future