Full Mouth Dental Implants
In cases where all teeth need to be replaced, a full mouth treatment using dental implants is an effective option for many patients. A full mouth implant treatment is the only way to fully restore appearance, comfort and function when compared to healthy natural teeth.
A full mouth treatment typically consists of:
The diagnostic and planning stages take several weeks (x-rays, CT scans, diagnostic mock-ups, virtual planning, smile design, etc).
The placement of six to eight dental implants in the upper jaw
Four to six implants in the lower jaw
Fabrication of fixed temporary bridge(s)
Durable, natural-looking porcelain teeth that are fixed to these implants by dental cement or screws
What Can I Expect From a Full Mouth Treatment?
The extent of your treatment process can depend on your individual condition and preferences, but it begins with the placement of dental implants in the jawbone. Modern technology allows us to place fixed temporary bridges on the implants on the day of implant placement. This technology provides us the a very easy transition from bad teeth or no teeth to a beautiful set of temporary teeth all in one visit. The final, permanent implant bridges will fully restore function and comfort. It is the very best option on all of dentistry.
How Can I Maintain My New Teeth?
Cleaning of Fixed Implant Bridges and Full Mouth Implant Bridges is the same as natural teeth. By brushing, flossing, using a Waterpik and regular dental hygiene patients can easily maintain their new teeth. Implants do not decay, so, though we don't recommend it, homecare is actually less important than with teeth.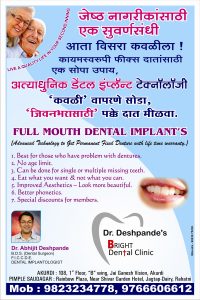 PLEASE FEEL FREE TO CONTACT US FOR EMERGENCY CASE.
On the other hand we denounce with righteous indignation and dislike men who are so beguiled.
+91 20 27206131